EDPが書籍になりました!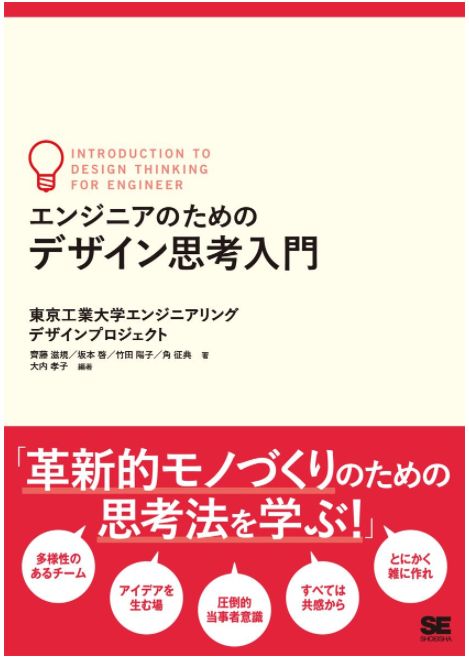 http://www.shoeisha.co.jp/book/detail/9784798153858
エンジニアリング、デザイン、デザイン思考を巡る80冊
ジュンク堂書店池袋本店6Fにて「エンジニアリング、デザイン、デザイン思考を巡る80冊」と題したフェアが開催されました。
過去に授業で取り上げた参考図書
http://booklog.jp/users/edp2016
"What Is Design Thinking?" に掲載された参考文献
by Jennifer Mailhot; Mia Silverman; Julie Stanford; Ellen Siminoff
History of Design Thinking
Power of Design Thinking
Brown, Tim and Barry Kātz. Change by Design: How Design Thinking Transforms Organizations and Inspires Innovation. New York: Harper Business, 2009.
Buchanan, Richard. 1992. "Wicked Problems in Design Thinking." Design Issues 8(2): 5.
Di Russo, Stephanie. 2016. "Understanding the behaviour of Design Thinking in complex environments." http://bit.ly/understanding-design-behavior
Design and the Creative Process
Kelley, David and Tom Kelley. Creative Confidence: Unleashing the Creative Potential Within Us All. New York: Crown Business, 2013.
Seelig, Tina. inGenius: A Crash Course on Creativity. New York: HarperCollins, 2012.
Moggridge, Bill. Designing Interactions. Cambridge: MIT Press, 2007.
Observation and Empathy Building
Goodman, Elizabeth, Mike Kuniavsky, and Andrea Moed. Observing the User Experience, Second Edition: A Practitioner's Guide to User Research. Waltham, MA: Morgan Kaufman, 2012.
Weiss, Robert. Learning from Strangers: The Art and Method of Qualitative Interviewing Studies. New York: The Free Press, 1994.
Getting Insights
Idea Generation
Ayan, Jordan. Aha! 10 Ways to Free Your Creative Spirit and Find Your Great Ideas. New York: Potter Style, 1997.
Prototyping, Testing, and Experimentation